The mission of the Virginia Arts Festival
is to bring world-class performing arts to our citizens and visitors, impact the lives of students through outstanding educational programs, commission new works of national and international significance, and make a tangible difference in Hampton Roads through regional partnerships and cultural tourism.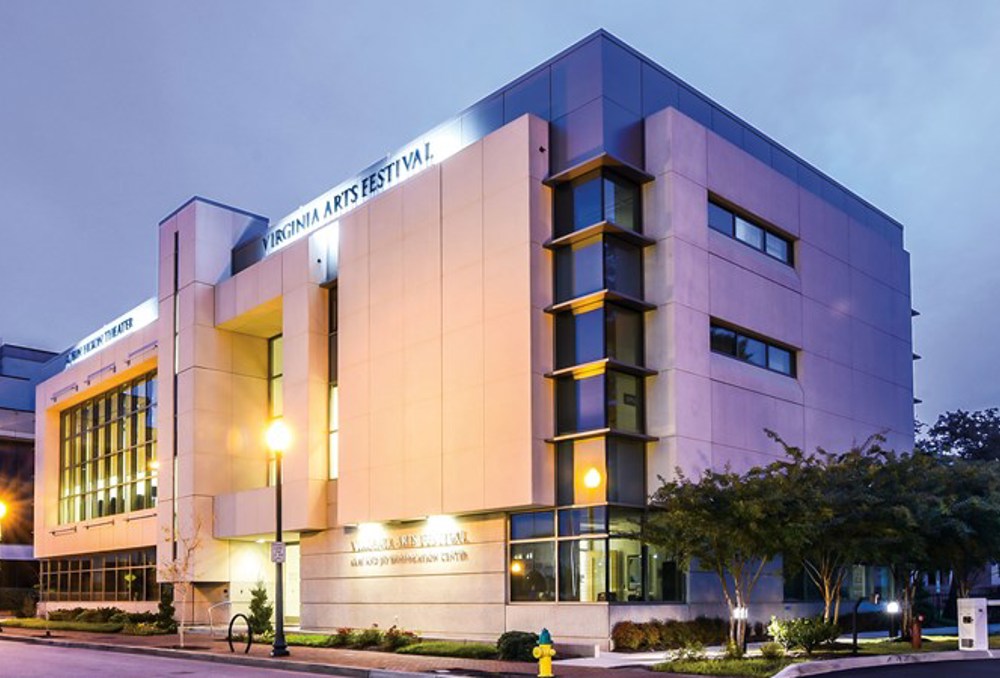 About VAF
The Virginia Arts Festival celebrates its 26th Anniversary in 2023.  The largest performing arts organization in southeastern Virginia, Virginia Arts Festival has transformed the region's cultural scene, presenting great performers from around the world and making this historic region a cultural destination for visitors from across the United States and around the world.  In 2019 the Festival welcomed visitors from 47 states, the District of Columbia, and 12 foreign countries.  Each season, the Festival presents over 250 performances, including free community events, student matinees, and workshops, with an annual attendance of over 110,000.  Millions more are reached through international broadcasts of Festival performances on American Public Radio's Performance Today, nationally on PBS TV, and regionally on WHRO TV.  Over 32% of ticket sales come from outside the region, bringing tens of thousands of visitors to local museums and attractions and filling regional hotels and restaurants.  Estimated annual economic impact of the Festival exceeds $25 million.
Artist-led, Virginia Arts Festival places artistic excellence above all.  The Festival's artistic leadership includes Robert W. Cross, the Festival's Executive Director / Perry Artistic Director and a Grammy Award-winning percussionist; Olga Kern, the Festival's Connie and Marc Jacobson Director of Chamber Music and a Van Cliburn Gold Medal-awarded pianist; and Tony award-winning Broadway music director Rob Fisher is the Goode Family Director of Music Theater and American Songbook.  Since 1997, some of the world's most prestigious artists have graced the Festival stages -  acclaimed ballet and dance companies such as Alvin Ailey American Dance Theater, American Ballet Theatre, Birmingham Royal Ballet, Mark Morris Dance Company, Dance Theatre of Harlem, Pilobolus, Netherlands Dance Theater, Cuban National Ballet, and Martha Graham Dance Company; great orchestras including Israel Philharmonic Orchestra, National Symphony Orchestra, Bavarian Radio Orchestra, and Academy of Ancient Music, with such conductors as Leonard Slatkin, Lorin Maazel, and Julius Rudel; renowned vocalists and opera stars such as Renée Fleming, Eric Owens, Ryan Speedo Green, Kristin Chenoweth, and Audra McDonald; instrumentalists and ensembles Itzak Perlman, Midori, Joshua Bell, Yo-Yo Ma, Alisa Weilerstein, Gil Shaham, Olga Kern, André-Michel Schub, Yuja Wang, Tokyo String Quartet, and Emerson String Quartet; renowned theatre companies including Royal Shakespeare Company and National Theatre of Scotland; and contemporary music icons including Herbie Hancock, Gary Burton, Chick Corea, Wynton Marsalis, Rhiannon Giddens, Bonnie Raitt, Bruce Hornsby, Sheryl Crow, Diana Krall, Alison Krauss, Norah Jones, Chris Thile, Jake Shimabukuro, the Wood Brothers, Béla Fleck, Ravi Shankar and Anoushka Shankar.
The Festival has presented numerous world and regional premieres and regularly commissions new dance and music works.  Notable new works include Passage (Dance Theatre of Harlem; Jessie Montgomery, composer, and Claudia Schreier, choreographer; 2019); Brahms Variations (Dance Theatre of Harlem; Robert Garland, choreographer; 2016); Romeo and Juliet (Mark Morris Dance Group; Mark Morris, choreographer); new chamber works by composers Ellen Taaffe Zwillich (Piano Trio; 2008) and Chen Yi (Chinese Ancient Dance Suite and Night Thoughts; 2002); new works for opera Rappahannock County (Ricky Ian Gordon, composer, and Mark Campbell, librettist; 2011); Pocahontas (Linda Tutis Haugen, composer, and Joan Vail Thorne, librettist); KEPT, a ghost story (Kristen Kuster, composer, and Megan Levad, librettist; 2017); and a pair of one-act chamber operas that will premiere in June 2022: Briar Patch (Nkeiru Okoye, composer, and Carmen Moore, librettist) and Companionship (Rachel J. Peters, composer/librettist).
As it has been since 1997, one of the anchor events of the Festival is the Virginia International Tattoo.  Inspired by the grand traditions of Tattoos in Edinburgh and London, the Virginia International Tattoo had big dreams.  Led by J. Scott Jackson, the Virginia International Tattoo has become the largest such event in North America and numbers among the largest Tattoos in the world.  Selected by the American Bus Association—the nation's premier travel organization—as the top event in the United States in 2016, the Virginia International Tattoo has drawn visitors from across the country and around the world and has welcomed performers from 31 nations.  There simply is no comparable experience in the United States and no greater voice for expressing our nation's gratitude to those who serve.  Some of the most memorable of the 25 past Virginia International Tattoos have saluted the Tuskegee Airmen, Vietnam Veterans, Medal of Honor recipients, and women in the military.  Each show is a moving lesson in history and patriotism for every generation, including the more than 20,000 students who attend the Tattoo every year.
 Virginia Arts Festival is committed to honoring, presenting, and nurturing artists who reflect the rich tapestry of the communities we serve.  Since 2004, the Festival has presented a wide range of performances in Norfolk's historic Attucks Theatre, the oldest remaining theater in the U.S. that was envisioned, designed, and built by African Americans.  In 2019 the Festival curated a 100th Anniversary celebration season in the Attucks Theatre and participated in creating WHRO's Emmy Award-winning public television documentary The Historic Attucks Theatre, Apollo of the South.
One of the Festival's great successes is our commitment to our local arts community.  The Festival regularly partners with Chrysler Museum, Feldman Chamber Music Society, Ferguson Center for the Arts, Norfolk State University Theater Company, Old Dominion University Ludwig Diehn School of Music, Sandler Center Foundation, Tidewater Chapter of the American Guild of Organists, Tidewater Classical Guitar, Virginia Opera, Virginia Stage Company, Virginia Symphony Orchestra, and Virginia Wesleyan University.
Arts education is central to the mission of the Virginia Arts Festival.  Since its creation in 1997, the Festival has reached more than half a million students, providing opportunities for students and educators that simply would not otherwise exist.  Each year, the Festival reaches over 30,000 young people through student matinees, in-school performances, workshops, and masterclasses, offering life-changing opportunities to see and study with virtuoso performers.  The Rhythm Project, a community engagement program of the Festival, is a world percussion program dedicated to nurturing self-esteem through individual and cooperative achievement.  Eleven ensembles serve the cities of Norfolk, Virginia Beach, and Portsmouth.
The Festival continues to receive national recognition for its artistic excellence, earning support from the Aaron Copland Fund, Surdna Foundation, Andrew W. Mellon Foundation, Capezio Foundation, Bank of America Neighborhood Builders, and the Hampton Roads Community Foundation.